I think when I started out I had such high hopes. My posts would be eloquent and I would instantly have a wide readership. I'm not a great writer and when I've sat down to write thought-provoking posts my knack for non-sequetor paragraphs seemed glaring.
So, I'm going to try again and just journal about my life with no expectations for readership or that my blog will save the world!
On that note - my most exciting news about life right now is that I'm just about 22 weeks pregnant with a little girl. My due date is June 25th. I found back at the beginning of October when I thought to myself at lunch one weekday, "hmmmm, I think I should have gotten my period yesterday or the day before." So I stopped at a pharmacy, picked up a test and went back to work. Luckily I work in a fancy wealth management building that has stand along bathrooms not stalls. I took the test and it popped up "Pregnant" almost immediately.
Here's the proof -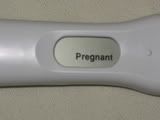 We found out it's a girl at our BIG ultrasound on the 6th. I'm not big on being surprised although I envy those that can wait for their patience. And now we're working on prepping Harry for being a big brother. Some of the time he seems to get it, other times he tells me he, too, has a baby in his belly. The other day he told me he had TWO babies in there. TWO!!!!